Mumei's Memory Juggling
A downloadable game for Windows and Linux
Follow Mumei's journey to learn all Hololive talent names in this match-2 card game. Keep in mind this is not your ordinary match-2 game. All cards that are matched can be used to activate special effects that will affect the placement of cards on the table, so keep your eyes open!
Additionally, each Council member has a Unique Skill they can activate after matching a number of cards. Use these skills to help you obtain victory!

The game features a Story Mode, where Mumei will interact with her fellow Council members and challenge the limits of her memory.
Defeat Council members in story mode to unlock them in other game modes.
Challenge yourself in Time Trial Mode, to see how fast you can match those cards in each of the levels.
Take it easy and practice in Solo Mode, where you can choose a Council member to play as, select the cards you want to use and go at it at your own pace.
Feeling competitive? See how you fare against the other Council members in VS Computer mode or play against a friend in VS Hooman mode (local multiplayer).
Controls
Mouse: Point and Click
Keyboard 1: WASD (move hand) E (action)
Keyboard 2: Arrows (move hand) RightCTRL (action)
Gamepad: Left Stick / D-PAD (move hand) A button (action)
Language / Idioma / 言語
The game can be played in English, Spanish or Japanese.
The language can be selected in the settings menu.
El idioma del juego se puede cambiar en el menu de ajustes.
ゲーム言語は設定メニューで選択できます。
Disclaimer
This is a free game made under the derivative work guidelines by COVER Corp.
The talents' thoughts, words and actions portrayed in the game are fictional. Any similarity to real events is coincidental.
All Hololive and Holostars talents are ©2016 COVER Corp.
If you need to contact me, please write me to davidwusoftdev (at) gmail.

Este es un juego gratuito creado siguiendo los lineamientos para trabajos derivados de COVER Corp.
Los pensamientos, palabras y acciones que los talentos muestran en el juego son ficticios. Cualquier parecido con eventos de la realidad es coincidencia.

Todos los talentos de Hololive y Holostars son ©2016 COVER Corp.

Si necesitas comunicarte conmigo, por favor escríbeme a davidwusoftdev (arroba) gmail.
この無料ゲームは、COVERCorpによる二次的著作物のガイドラインに従って作成されました。
ゲームに描かれているタレントの考え、言葉、行動は架空のものです。 実際のイベントとの類似性は偶然です。
ホロライブとホロスタースのタレントはすべて ©2016 COVERCorpです。
私に連絡する必要がある場合は、davidwusoftdev (at) gmail に電子メールを送信してください。

Support the developer
This game is free to play. However, if you like what I do, please consider donating! Thank you!

Este juego es gratuito. Sin embargo, si te gusta lo que hago, por favor considera hacer una donación! Muchas gracias!

このゲームは無料でプレイできます。 しかし、私がやっていることを気に入ったら、寄付を検討してください!ありがとう!
| | |
| --- | --- |
| Updated | 18 days ago |
| Status | Released |
| Platforms | Windows, Linux |
| Rating | |
| Author | David Wu SoftDev |
| Genre | Card Game |
| Made with | Unity |
| Tags | Casual, Fangame, hololive, Local multiplayer, Non violent, vtuber |
| Average session | A few minutes |
| Languages | English, Spanish; Latin America, Japanese |
| Inputs | Keyboard, Mouse, Gamepad (any) |
| Multiplayer | Local multiplayer |
| Player count | 1 - 2 |
Download
Click download now to get access to the following files:
Mumei_MemoryJuggling_v1.3.0_LINUX.zip
121 MB
Mumei_MemoryJuggling_v1.3.0_WIN.zip
115 MB
Also available on

Comments
Log in with itch.io to leave a comment.
I kinda find it funny that in this game, the catchphrase you used for Mumei is "I forgot"
It fits the game! XD

Also... If I'm not mistaken, when I started grabbing audio clips for each talent the girls had only a few months since debut. I think "oh hi" was not a thing back then. I may be wrong though.

Hi hi! Found this game because Mumei is going to play it on stream tomorrow. I love it a lot! Even the boys are included! Minor nitpick though, since Flare got a new base outfit now, she prefers it if people would use her new model instead of her old one in games/fanarts/memes/clips. So I wonder if you would change her portrait to the new one? It's available in the Hololive official website.
Thank you for playing! I'm glad you liked it!
About Flare, yes, her new outfit is in the list of future updates for the game, together with some difficulty adjustments and possibly adding the new holostarsEN boys. Thank you for the feedback!
Nice game.
Very minor but having the zip include a folder for the game would be nice so that extracting it to a folder that isn't empty won't cause a mess.
Also Staff and Other being same category isn't ideal.
Thank you for the ZIP folder suggestion. I'll keep that in mind for the 1.1 release!
I had to group Staff and Other because they're too few members in each group (2 each) to have them in separate categories. In version 1.1 AZKi will move to Gen 0 and Nodoka will join Staff, so this category will be renamed Staff and HOPE. :)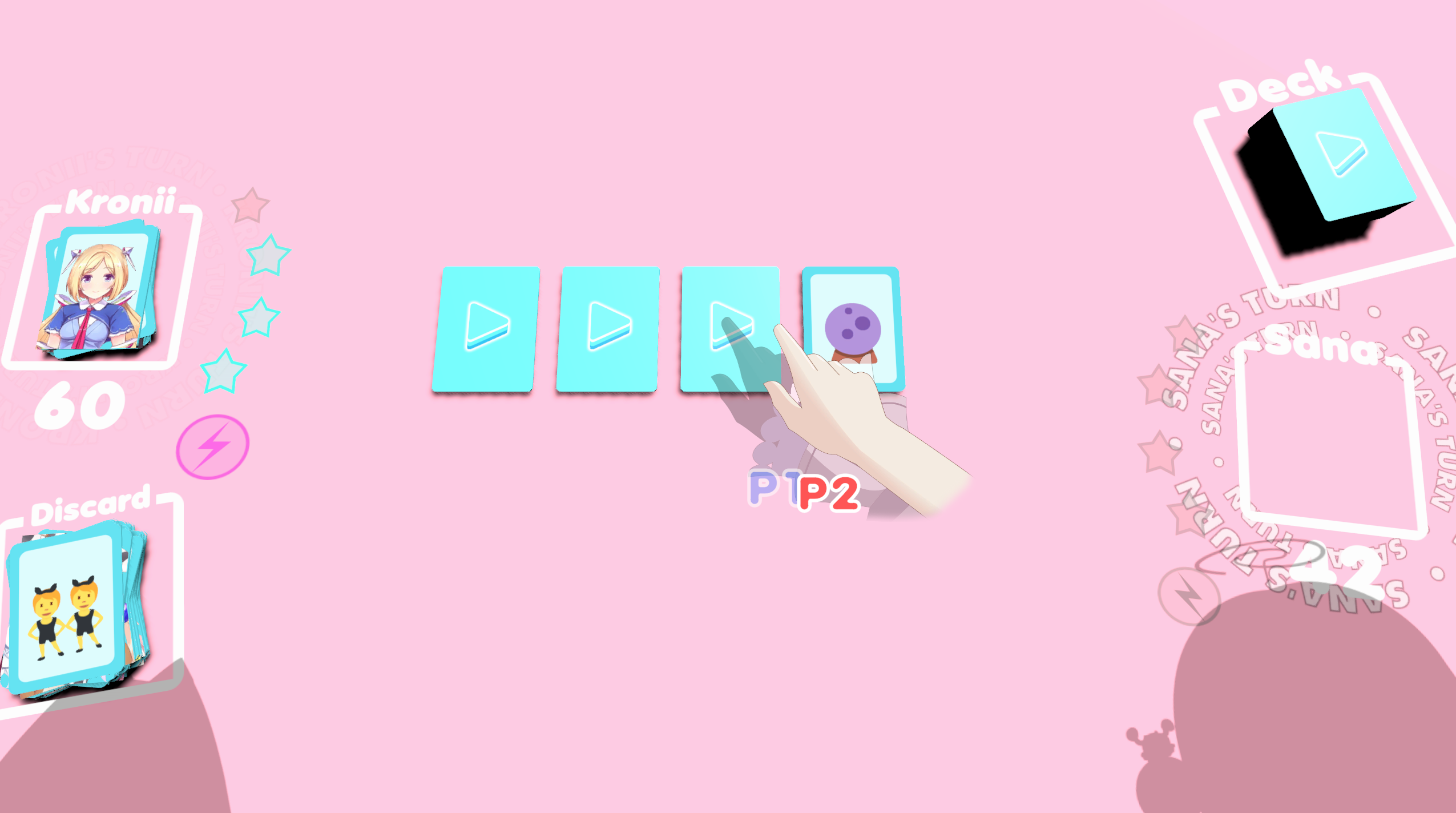 I really love this game!
Encountered a bug during one match though. We got dealt new cards, making a single row. Sana used her ability and froze, because there was no 2x2 area available. Had to quit to menu.

Awesome game! Memory games are so fun and relaxing. I love the new twist you put on it! All the polish on it is wonderful, too!

I'm not sure how concerned you are with typos, but there was one I found on Day 8: VS Baelz. Bae says "I heard ya'been studying heaps about out Hololive fam!" I'm pretty sure it should read "our Hololive fam." Just wanted to bring it to your attention that it was there. No pressure or anything though.

Keep up your awesome work!

Hey, I'm glad you enjoy my game!
Thank you for pointing out the typo! I'll add it to the list of stuff to fix for the next game patch!