Delivering Hope (hololive fangame)
CURRENT VERSION: v2.0.3
WARNING: Do not run version 1.0.x of the game after running version 2.0.x. You risk corrupting your save file!
Get IRyS flying and deliver hope as far as you can in this hololive fangame!
For the best experience, play the downloadable version!
Happy anniversary, IRyS! (July 11th)

Check out IRyS channel on YouTube and follow her on Twitter!!!

How to Play
Left click or Spacebar to boost. (consumes one boost charge)
Right click or F key to boost down. (hold to aim)
Drink soda to recover boost charges.
Fly at a certain altitude range to slowly charge boost down power.
Calli will boost IRyS.
Mumei will boost IRyS too, with a special boost when her counter goes down to zero.
Kronii will change IRyS flight angle and provide some boost too.
Bananas will make IRyS bounce higher and fly further for a short time.
Eating a meatball will slow down IRyS but also charge a bit of boost down power.
Glider and Rocket will help IRyS stay on the air longer.
Holopoly will roll one of 4 effects: 2 positive and 2 negative. Good luck!
Oh and don't touch Bae! IRyS will stop and end the run!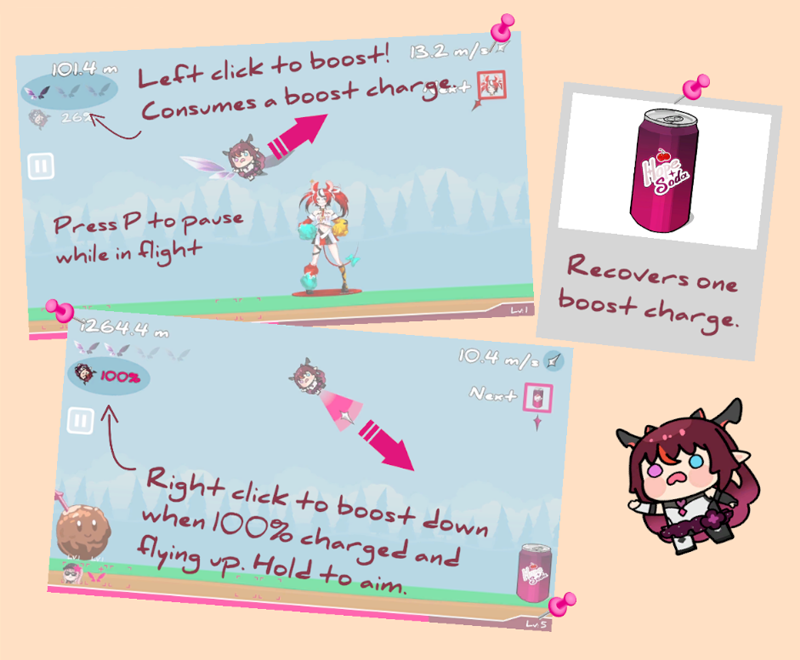 Gamepad should work too. Use "A" button to boost, "X" button to down boost, and "Start" button to pause. Achievements
You may unlock achievements by reaching certain conditions while playing. Check the achievements list in the game.

About Classic Mode
The game can be changed to Classic Mode in the settings menu. This mode makes the game run as version 1.0.3, removing all the new items and mechanics that were introduced in version 2.0.0, such as the aerial items, new characters and downwards boost.
If you feel there's too much going on in version 2.0.0 and would like a simpler experience, give Classic Mode a try!
Credits
Music:
Art:
3D models:
Disclaimer
This free game has been created following COVER Corp.'s derivative works guidelines. This is not an official hololive game, it is a fan-made game.
The developer is not endorsed nor affiliated with hololive, COVER Corp, or any of its talents. All holopro talents are ©2016 COVER Corp.
Feel free to livestream this game or create other derived content allowed by COVER Corp.'s derivative works guidelines. Please link back to this page if you do so!
Download
Click download now to get access to the following files:
Delivering Hope v2.0.3 WIN.zip
95 MB
DeliveringHope_v2.0.3_LINUX.zip
98 MB
Also available on