DOOG (Hololive fangame)
DooG The Game
What is DooG?
This game emulates the classic Doom experience (to an extent) with a Hololive theme. I developed this game after getting inspired by a Korone stream where she edited her face over the Doom promotional poster. XD
Este juego emula la experiencia del Doom clásico (hasta cierto punto) con una temática de Hololive. Desarrollé este juego luego de recibir inspiración en un stream de Korone en el que editó su cara sobre el póster promocional de Doom. XD
このゲームは、Hololiveテーマで 古典的なDoom体験を(ある程度)エミュレートします。 このゲームは、ころさんのストリームからインスピレーションを得て開発したもので、彼女はドゥームの宣伝ポスターで顔を編集しました。 XD

Controls
This game is playable in the browser with keyboard and mouse. Keyboard controls can be customized. See the default controls below.
Se puede jugar en el navegador de internet utilizando el teclado y ratón. Los controles del teclado se pueden personalizar. En la imagen los controles predeterminados.
このゲームは、キーボードとマウスを使用してブラウザでプレイできます。 キーボードコントロールはカスタマイズできます。 以下のデフォルトのコントロールを参照してください。


Gamepad Controls
Gamepad support is available since version 1.00. See the control scheme below.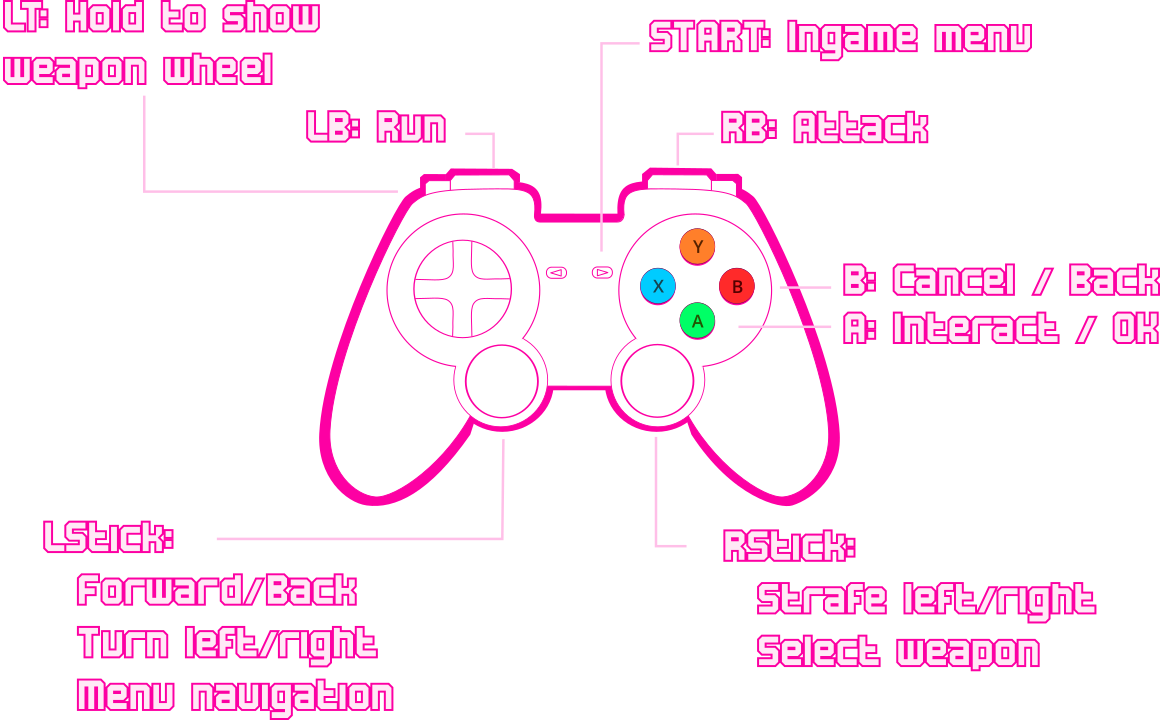 Se puede utilizar un mando de juego desde la versión 1.00. Los controles se muestran en la imagen a continuación.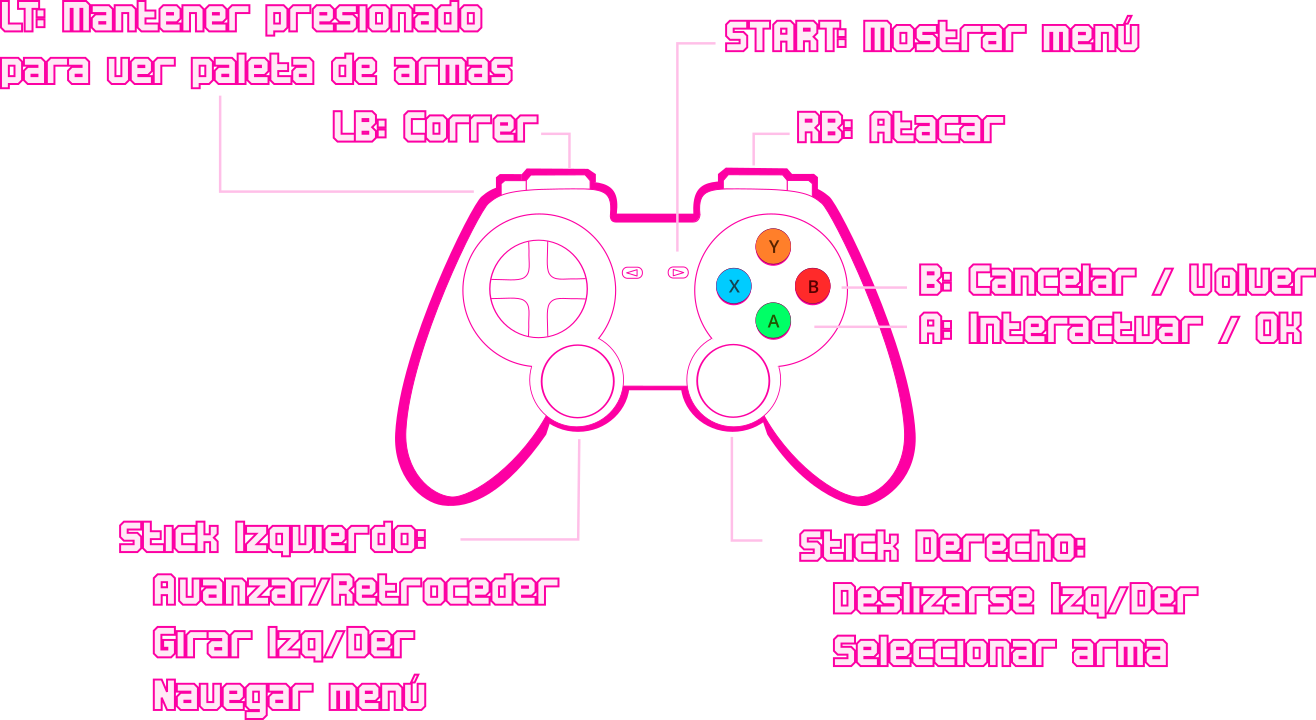 ゲームパッドのサポートは、バージョン1.00以降で利用できます。 以下のコントロールの説明を参照してください。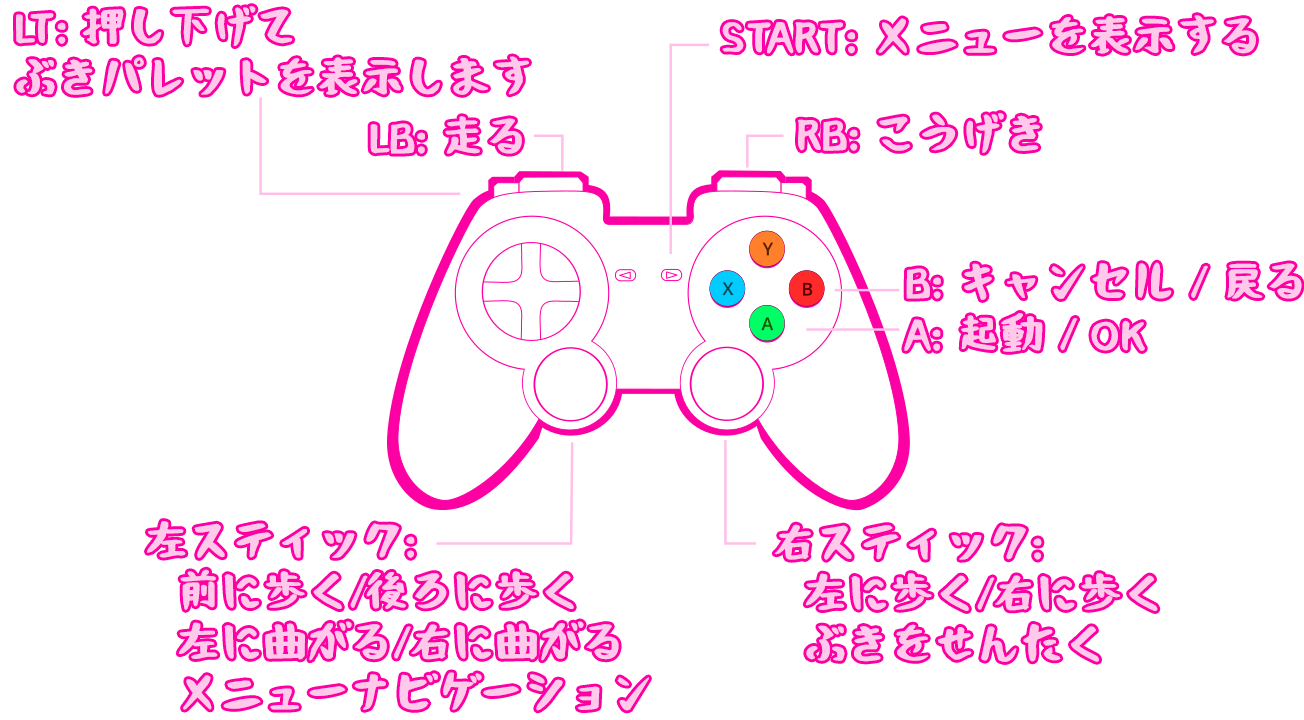 Language / Idioma / 言語
The game can be played with menus and messages in English, Spanish or Japanese.
The language can be selected in the main menu.
El idioma del juego se puede cambiar en el menu principal.
言語はメインメニューで選択できます。

Disclaimer
This is my first published game, so it's likely to have a bunch of bugs.

I'm an independent developer, not affiliated with Cover Corp. or any Hololive organizations. This free game is a derivative work of Cover Corp.'s Hololive property. It is not endorsed nor affiliated with the previously mentioned organizations.

This is not an official Hololive game. I do not claim any ownership of Hololive property. Please support the Hololive VTubers!
Este es el primer juego que publico así que es probable que tenga errores.

Soy un desarrollador independiente, no tengo afiliación con Cover Corp. u otras organizaciones de Hololive. Este juego gratuito es un producto derivado a partir de propiedad intelectual de Cover Corp. Hololive. No está avalado ni afiliado a las organizaciones anteriormente mencionadas.
Este no es un juego oficial de Hololive. No reclamo derechos de autor sobre la propiedad de Hololive. Por favor, apoya a los VTubers de Hololive!

このフリーゲームはカバー株式会社様のホロライブタレントらを用いて作られた二次創作物です。このゲームは非公式で作成されたものであり、カバー株式会社様、およびホロライブプロダクションとは一切関連はありません。このゲームはカバー株式会社様の二次的創作ライセンス規約に基づいて製作されており、製作者一同はゲーム内に登場するホロライブプロダクションのキャラクターらの著作権を一切保有していません。
Support the developer
This game is free to play. However, if you wish to support my indie game developer adventure so that I can make more fun games, please consider donating!

Este juego es gratuito. Sin embargo, si deseas apoyarme en mi aventura de desarrollador de juegos independiente para crear más juegos divertidos, por favor, considera hacer una donación!

このゲームは無料でプレイできます。 ただし、私のインディーゲーム開発者冒険をサポートして、より楽しいゲームを作成できるようにしたい場合は、寄付を検討してください。
| | |
| --- | --- |
| Status | Released |
| Platforms | Windows, Linux, Android, HTML5 |
| Rating | |
| Author | David Wu SoftDev |
| Genre | Shooter |
| Made with | Unity |
| Tags | Fangame, First-Person, FPS, hololive, Short, Unity |
| Average session | About a half-hour |
| Languages | English, Spanish; Castilian, Spanish; Latin America, Japanese |
| Inputs | Keyboard, Mouse, Gamepad (any) |
| Accessibility | Configurable controls |
Download
Click download now to get access to the following files:
DOOG_v105_LINUX.zip
217 MB
DOOG_v105_ANDROID.apk
175 MB